With facial-recognition running tracks and an over-subscribed marathon, Shanghai is fast becoming a city of joggers – despite its notorious air pollution
On a clear, balmy night in Shanghai, a group of lycra-clad runners stretch their hamstrings in the city's Xuhui district, sporting an array of headphones, water bottles and Fitbits. The group, known as RunnersHai, are meeting for their weekly training – half are practising for a marathon, others are just in it for the exercise.
"Running in Shanghai initially seemed like an impossible challenge – even walking the streets is dangerous because of cars and other vehicles," says Wang Hui, 26, from Anhui. "But with other runners, we can find better locations together for running."
Tonight the group is running on the West Bund, a former industrial site by the river that has been newly converted to host art galleries, restaurants and public space for sports, including a running track, basketball hoops and climbing wall. The pleasant riverside stretch is popular among runners – a rapidly expanding group in the city – and Hui, who has a knee injury, prefers the soft surface of the track to hard city pavements.
"The Riverside is my favourite, favourite place to run in the city," says Grace Guan, 30, an experienced runner who last year took part in eight different events, and has already secured a place for this year's Shanghai International Marathon.
The state-organised Shanghai Marathon launched in 1996 with 5,000 runners; by 2016 there were 38,000. Now, demand outstrips supply – many of the RunnersHai group tried unsuccessfully to get a place in the lottery-allocated system. As well as the marathon, the city also organises a half-marathon, which recently attracted 20,000 runners, a 10k run which drew 8,000, and a mini-run of 5,000 people.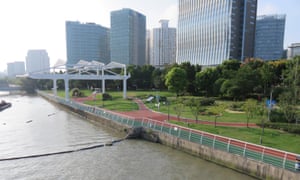 More and more running-focused infrastructure is being built in Shanghai to accommodate its growing jogging community. Photograph: Helen Roxburgh
To accommodate Shanghai's army of runners, the government has extended the West Bund in the last few months, turning a 3km track into a 15km loop, with amenities along the way such as toilets, signage and water pitstops. Even showers are promised in the future.
The city's Century Park has a new 5km public running track that was completed this year, lined with leafy trees and bright lighting. And on the city's Chongming Island, an 8km smart running track was tested this year, equipped with devices such as facial recognition, which can calculate a runner's average speed over certain distances, plus heart rate monitors to gauge health levels.
Picturesque spots on the outskirts of Shanghai are being promoted as running sites, including Dishui Lake, the home of a triathlon. Runs designed to fit with the city's urban fabric include a charity Vertical Run to the 57th floor of the Shanghai IFC building.
Shanghai is not unique in seeing exponential growth in the number of runners. In 2011, China had 22 marathons or other running events, according to Xinhua, but there will be more than 400 this year – 54 new cities have introduced marathons in the last year.
By 2020, the target is more than 800 marathons and races nationally, with more than 10 million participants to "promote a healthier China", says Du Zhaocai of the China Athletics Association.
According to Nielsen, running has acquired a position of status in China, and middle-class professionals with a level of higher education are more likely to take it up.
The Nike+ Running Club hosts daily events in Shanghai, and attendees can join an hour-long running group wearing a pair of Nike trainers, to test them out for size. It draws in a crowd of largely young office workers and is booked out days in advance.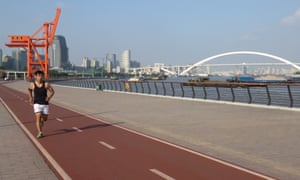 River run: the new West Bund track by the riverside in Shanghai. Photograph: Helen Roxburgh
Adidas is also very visible in the market with its "Runbase" centre on the West Bund, complete with lockers, merchandise for sale and indoor training space.
"Some sports retailers have enormous flagship stores here that have seen enormous growth – as much as 65% year on year," says Rebecca Tibbott, head of retail at CBRE China.
However, runners in Shanghai still have plenty to contend with, including the city's large numbers of humans and cars. Many resort to running in cycle lanes – which is far from ideal. Buses and taxis frequently pull across lanes to deposit commuters, while dog walkers, wheelchair users, parents with prams and general amblers frequent the space – plus a ballooning number of cyclists, following the introduction of hugely popular bike-share schemes.
Even the new running space at the West Bund is often crowded, already popular with the city's elderly, young families and students. And with 10 new 30-storey apartment blocks under construction opposite, the area looks set to become significantly more crowded in the near future.
"The government has done a lot to improve the city for exercise," considers Hui, taking a diversion off the track to move around the crowds. "But much can still be done."
Other problems include the city's physical size. Both the West Bund and Century Park are outside the city centre, prompting logistical problems for downtown joggers who use the routes, necessitating sweaty metro or taxi journeys home.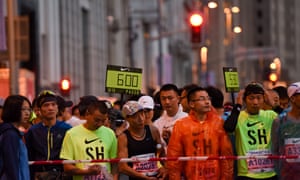 The popularity of running is not unique to Shanghai, 54 Chinese cities have introduced marathons in the last year
Aside from temperatures that can reach as high as 40C, runners also have to contend with high levels of air pollution. A study by a team of researchers at Peking University found that in China's top five cities air pollution readings remained higher than World Health Organisation's upper safety limit, despite improvements over the last three years. Even the best-rated cities, Shanghai and Guangzhou, did not have more than 37% "good" air days.
Mark Zuckerburg inadvertently sparked an online debate in China when he posted a picture of his so-called "smog jog" in Tiananmen Square last year. It followed soaring levels of hazardous smog in the 2014 Beijing Marathon, and during a polluted 2015 event, local newspapers reported that six runners and one official were taken to the hospital.
Many people cancel runs when the pollution gets too high, but scientists are divided over the long-term detriments of jogging in polluted air. Research into the damage of exercising in pollution is still evolving. A 2012 review published in the New England Journal of Medicine estimated daily bicycle trips in polluted cities took up to 40 days from a person's average lifespan, but the additional exercise lengthened it by three to 14 months.
"Increasingly, we are starting to understand that even low levels of pollution may contribute to serious health impacts beyond the acute reactions that we normally think of like respiratory, and cardiovascular problems," says Sieren Ernst, founder of environmental consultancy Ethics & Environment. "So is it safe to exercise in air pollution? We know air pollution is bad for human health, and exercise increases exposure. In general, it's not safe to breathe air pollution, and so no – it's not safe to exercise in it.
A study in the journal Preventive Medicine suggested the negative health impacts of as little as 60 minutes of cycling in some of China's most polluted cities would outweigh the benefits.
"Running on a treadmill with filtered air is going to be healthier than running outside in a polluted city," Ernst agrees but warns, "having filtered air is key."
For many, running on a treadmill is the most practical way of achieving serious training, even if it is expensive and less enjoyable than outdoor running.
"At the end of the day, it is easier to run on a treadmill," says Grace Guan. "When I'm training for the marathon I will have to start using the treadmill. It's just easier because there's no disruption to your run. I enjoy running on the streets in Shanghai, but it's much more difficult – you have to keep stopping, and dodging people and things coming from all directions."